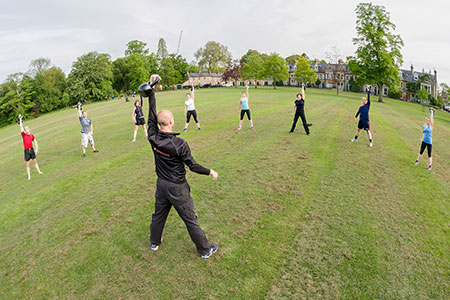 Group kettlebell classes take place online using Zoom and in-person at the following three locations:
Cambridge University Press

Hills Road Sixth Form College

St John's Innovation Centre
Classes at Cambridge University Press are primarily for staff, but if the class is not full one or two additional people can join the group.
Group classes provide a good introduction to kettlebell training, are highly motivational and fun.
Along with many other providers of fitness classes, we started to provide classes using Zoom during the Coronavirus pandemic. Whilst we have returned to working face-to-face with our clients, Zoom classes remains a part of how we now teach our workouts. These provide great flexibility for the client, as the class can be joined from any location and, if you can't join the live class, at a time that suits you by making use of the class recordings.
If you have experience of using a kettlebell and would like to try our online classes then send us an email for more details. You can take part in our classes from anywhere in the UK (or even the world).
Next Beginner Course
The next beginner course will be taught by Alan, starting at 6.30pm Tuesday 31st May. It will take place at Hills Road Sixth Form College for a maximum of ten participants. It will be an eight week course costing £80. All equipment will be provided. You are welcome to bring your own kettlebell, if you have one. Please email This email address is being protected from spambots. You need JavaScript enabled to view it. for more information.